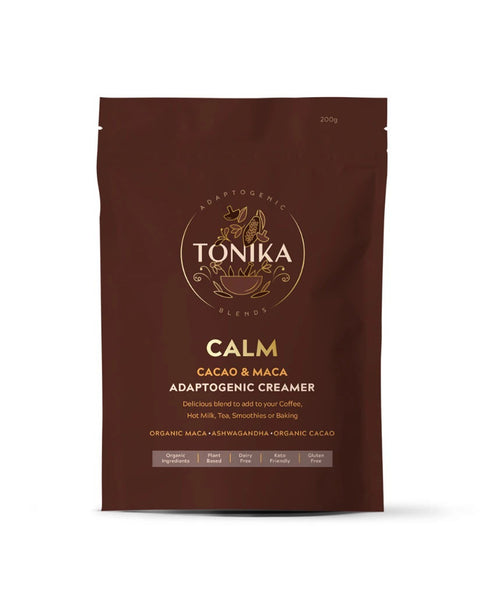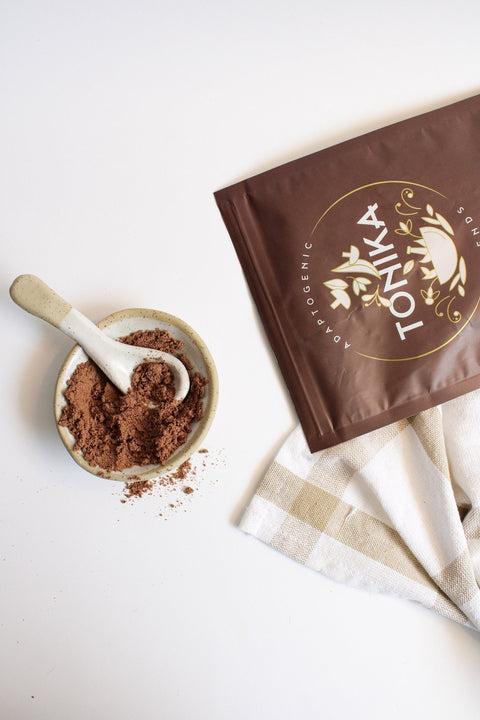 Tonika
Tonika Coffee Creamer - Cacao and Maca (200g)
Our Cacao and Maca adaptogenic coffee creamer combines coconut MCT's and organic cacao powder with the highest quality organic maca powder to create an irresistibly rich chocolate flavour, with a hint of sweetness. A perfect addition to your morning coffee or hot chocolate.

Functional Foods and nutrient dense ingredients provide essential nutrients including fibre, vitamins C, E, B1, B3, B5 and B6 and minerals including iron, selenium, sodium, calcium, magnesium and phosphorous.
Our Adaptogenic Coffee Creamers are very low in carbs and sugar, we use a little non GMO Xylitol and monk fruit to give it a little sweetness. Made with 100% natural ingredients, vegan and keto friendly.
NUTRITIONAL INFORMATION
Ingredients: Coconut Milk Powder, Coconut MCT Oil Powder, Organic Cacao Powder, Alkalised Cacao Powder, Natural Flavours, Sweetener (Monk Fruit, Xylitol), Organic Maca Powder, Organic Ashwaganda, Organic Reishi Mushroom, Organic Chaga Mushroom, Sunflower Lecithin Extract
Checking local availability