WhatIF Foods
WhatIF Foods | Pumpkin Noodles - Cheeky Curry
Made with the regenerative crop Bambara groundnut, wholesome and full of goodness!
Pump up the taste. Our Pumpkin noodles with their uber orange color and cheeky curry seasoning, kick you right in the taste buds. Thing is, they're also full of good stuff that keeps your tummy from rumblin'.
Our patented air-fry technology preserves the natural colors of the pumpkin and its rich carotenoids and gives them a screaming orange appearance when served. Paired with our Cheeky Curry seasoning, experience a burst of bold flavors that will spice up your day.
17g of protein
52% less fat (*compared to leading instant noodles)
3x more dietary fiber (*compared to leading instant noodles)

Air-fry
When it comes to unhealthy ingredients we find a better way. 
NO Artificial Colors
NO Palm Oil
NO Artificial Flavours
Noodle: Wheat flour, Bambara groundnut flour, pea protein, coconut oil, pumpkin powder, sunflower oil, guar gum, beta carotene, salt, potassium carbonate, sodium carbonate, annatto
Seasoning: Curry seasoning mix (maltodextrin, coriander, cumin, ginger, chili, nutmeg, turmeric, cardamom, clove, sugar, iodized salt, onion, garlic, yeast extract, potassium chloride, silica, citric acid, ascorbic acid), fermented Bambara groundnut flour, maltodextrin, salt, garlic, onion, Bambara groundnut flour, curry flavour, silica, smoked paprika, chili, hydrolyzed soy protein, soy sauce powder, sugar, yeast extract, paprika, citric acid, shallot oil (canola oil, shallot, soybean oil)
Sauce: Sweet soy sauce (sugar, soy extract, water, salt, caramel, citric acid, xanthan gum), water, soy sauce powder, salt, yeast extract, chili pepper

Oil
: Chili oil (canola oil, chili extract (chili pepper), shallot oil (canola oil, shallot, soybean oil)
Allergen Warning
: This product contains soy, wheat, coconut, and Bambara groundnut - a legume related to peanuts.
Checking local availability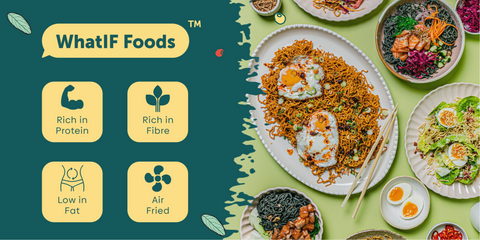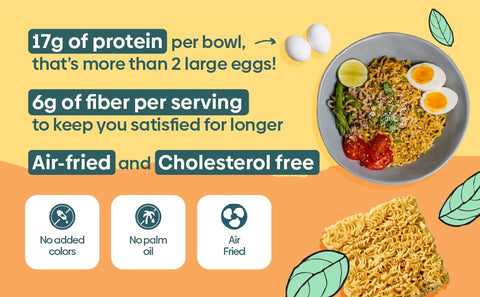 So good !
I love this product! Super easy and fast to cook ( literally a under 5 minutes), you can make different flavors using the sauces in the box or any other sauce you have at home. Whatever you do, the base noodles taste great. I once made a noodle soup that was delicious. Today I added the noodles to my stir fry.
Delicious
It was great and comes with seasonings.