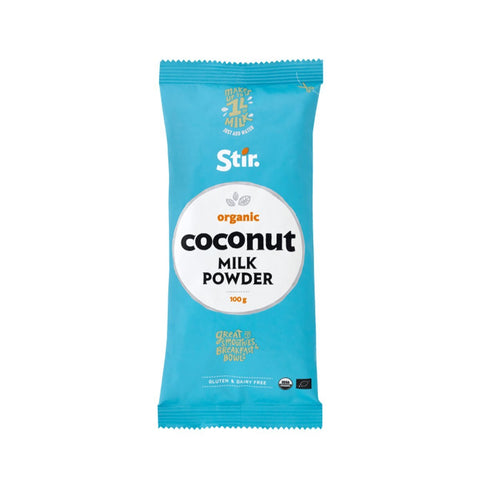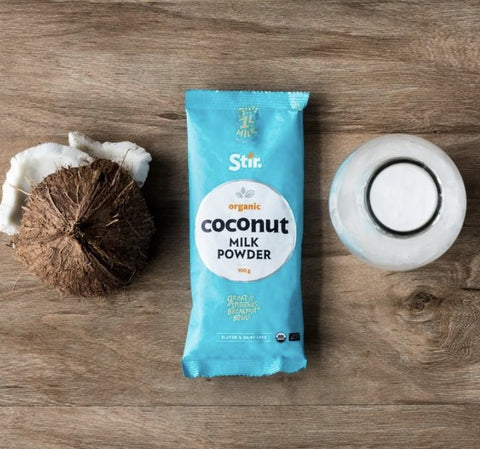 Stir
Coconut Not Milk Powder
USDA certified organic
dairy free
gluten free
vegan
no added preservatives
We can't deny it – we're in love with the coco, and think you will be too after tasting our delicious STiR Coconut Plant-Based NOT Milk Powder.
Made using organic coconuts all the way from Southeast Asia, one tablespoon mixes with 200 to 400ml warm water to create creamy, deliciously coconutty not milk that's perfect in your morning coffee or fragrant curries, desserts, baking, smoothies, and porridge. And are you a fussy eater / allergy-sufferer / natural food lover? Rejoice with us – STiR Coconut Plant-Based Not Milk Powder is gluten-free, additive-free and dairy-free, making it a nutritious and yummy dairy milk replacement. Rich in phosphorous, coconut is also great for strengthening bones and is also high in magnesium. 
Ingredients:
Organic coconut milk powder (96%), organic acacia fiber (2%), organic maltodextrin from tapioca (2%).
PRO TIP:
Make sure your water is warm / hot when you stir your powder – our coconut not milk has about 65% fat, so using warm water will help to melt the fat and homogenize the not milk.

Checking local availability