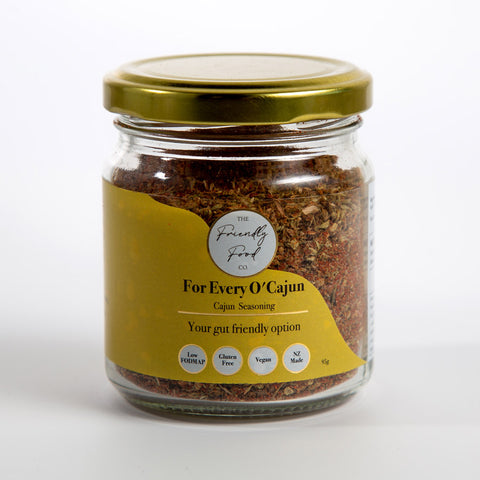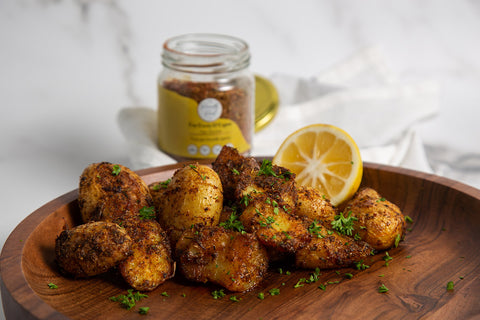 The Friendly Food Co
Cajun seasoning - For Every O'Cajun
Low FODMAP • Gluten Free • Dairy Free • Vegan
​​​​​​​​Get ready to fire up your taste buds! This seasoning is earthy and smokey with a subtle kick, to spice up every occasion. For flavouring chicken, prawns, roast potatoes or added to homemade dips.
95g
Featuring paprika, oregano and thyme with a touch of black pepper and a hint of sweetness to balance.
Low FODMAP, Gluten Free, Dairy Free, Vegan
Ingredients: Paprika, oregano, thyme, salt, sugar, black pepper, cayenne pepper
Uses: Sprinkle on top of chicken, prawns, tofu, roast potatoes, roast chickpeas to add flavour. Add to homemade dips.
NUTRITION INFORMATION

Servings per package:

23

Serving size:

3

g

Average Quantity: 

Per Serving

Per 100g

Energy

22.2

kJ

739

kJ

Protein

0.2

g

5.1

g

– gluten

0

mg

0

mg

Fat, total

0.1

g

3.9

g

– saturated

0

g

0.6

g

Carbohydrate

0.7

g

23

g

– sugars

0.4

g

15.2

g

Sodium

521

mg

17400

mg
Checking local availability