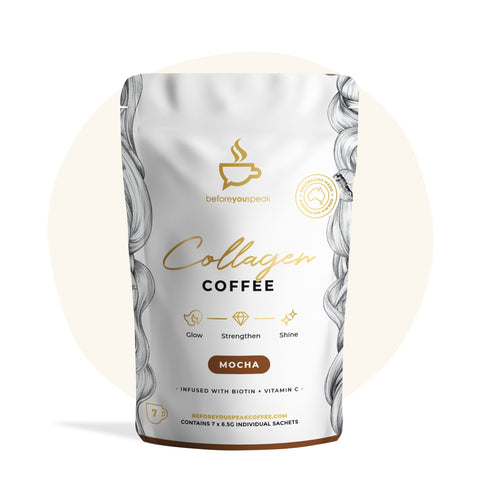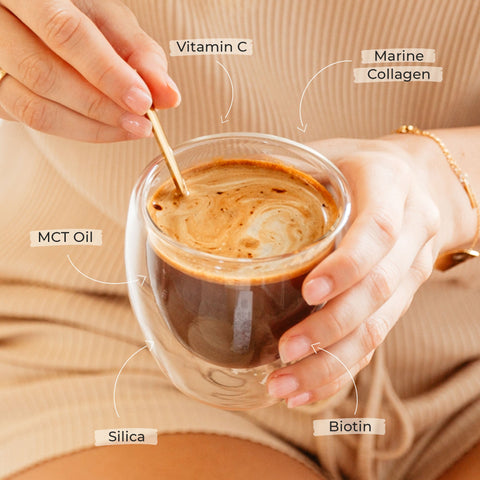 BEFORE YOU SPEAK
Before You Speak Collagen Coffee Glow Mocha, 7 Sachets
Collagen coffee. No, for real, it exists! We understand the importance in taking care of your hair, skin & nails. Our Mocha Collagen Blend is carefully formulated to help you look and feel your best, so you can perform at your best.

DIRECTIONS FOR USE
This is the fun part. Simply stir 1 sachet with 250ml of hot or cold water. Consume in the morning to kick start your day, pre-exercise or whenever you need your coffee fix.
NUTRITIONAL INFORMATION
Pure Single Origin Colombian Coffee Bean 115mg Caffeine, Marine Collagen 1200mg, MCT Oil (Medium Chain Triglycerides) 1000mg, Organic Camu Camu 200mg, Silica Colloidal Anhydrous 200mg, Lysine 50mg, Proline 50mg, Vitamin B6 (Pyridoxine) 50mg, Biotin 40mcg, Cacao, Sweetener (Stevia).
Servings per package: 30
Serving size: 6.5g
Avg qty per
serve
Avg qty per
100ml
Energy(kJ)
68kJ (16cal)
27.2kJ (6.4cal)
Protein
1.9g
0.76g
Fat, total(g)
0.37g
0.14g
Saturated
0.36g
0.14g
Carbohydrates(g)
0.94g
0.37g
Sugars
0.02g
0.01g
Sodium(mg)
0.7mg
0.28mg
COMPOSITIONAL INFORMATION
Checking local availability