WhatIF Foods
WhatIF Foods | BamNut Noodles - Sweet Hot
Made with the regenerative crop Bambara groundnut, wholesome and full of goodness!
Instant noodles that are better for you and the planet? You better believe it. Made with BamNuts and our amazing air-frying technology, they taste deliciously deep-fried even though they're not. A little sweet, a little spice, they're full of nutrients and fiber but way lower in fat. Oh, and no palm oil. Welcome to indulgent, guilt-free, yum-filled, blow the chopsticks right out of your hand eating.
Add our Sweet Hot seasoning to the noodles for a delightfully spicy experience with a dash of caramel sweetness coming from traditional Kecap Manis (Indonesian sweet soy sauce).
17g protein
60% less fat (*compared to leading instant noodles)
3x more dietary fiber (*compared to leading instant noodles)

Air-fried
When it comes to unhealthy ingredients we find a better way. 
NO Artificial Colors
NO Palm Oil
NO Artificial Flavour
Preparation Suggestion:
Cook noodles in 500ml of boiling water and let simmer for 3 – 5 minutes.
Mix the seasoning (A), sauce (B) and oil (C) in a bowl while noodles are cooking.
Strain noodles, mix well with all seasoning and serve!
Noodle: Wheat flour, Bambara groundnut flour, pea protein, coconut oil, sunflower oil, guar gum, salt, potassium carbonate, sodium carbonate.
Seasoning: Maltodextrin, garlic, onion, Bambara groundnut flour, salt, chili, hydrolyzed soy protein, soy sauce powder, sugar, silica, yeast extract, paprika, shallot oil (canola oil, shallot, soybean oil)
Sauce: Sweet soy sauce (sugar, soy extract, water, salt, caramel, citric acid, xanthan gum), water, soy sauce powder, salt, yeast extract, chili pepper
Oil: shallot oil (canola oil, shallot, soybean oil)
Allergen Warning: This product contains soy, wheat, coconut and Bambara groundnut - a legume related to peanuts.
Checking local availability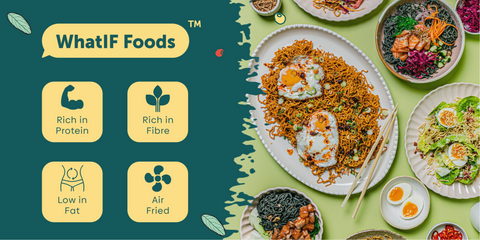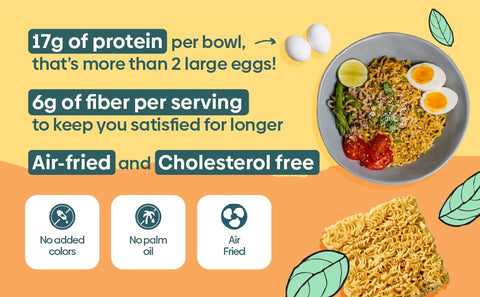 Excellent stir-fry base
These noodles make an excellent base to your stir fry!
Great texture and flavour!
We're pretty big ramen fans, and this is some of the best if you're trying to eat on the healthier side (and they actually have stock and can deliver on time, unlike other brands that I won't name).
Much better protein:carb ratio than other ramen, and less oil due to being air-fried during production.
This is a solid pantry staple in any flavor; we've tried all of them.