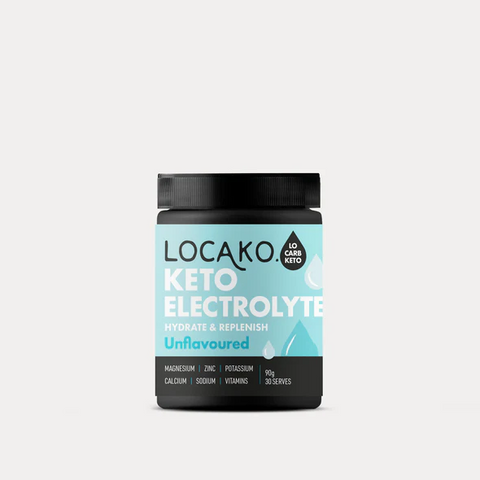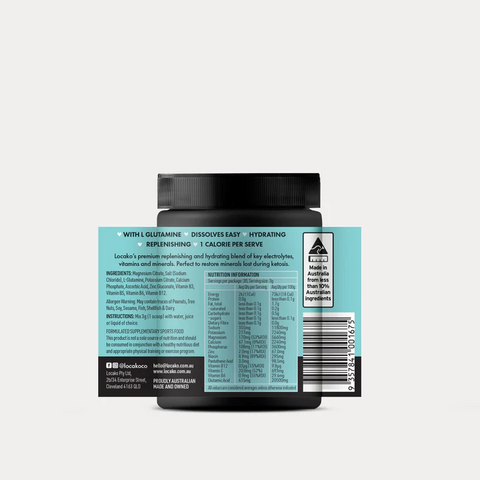 LOCAKO
Locako | Keto Electrolytes - Natural
Locako's premium replenishing and hydrating blend of key electrolytes, vitamins and minerals, perfect to restore minerals lost during ketosis,
Fruity and Tangy, Dissolves Easy, Hydrating, Replenishing, 1 Calorie Per Serve.
INGREDIENTS
Magnesium Citrate, Salt (Sodium Chloride), L - Glutamine, Potassium Citrate, Calcium Phosphate, Ascorbic Acid, Zinc Gluconate, Vitamin B3, Vitamin B5, Vitamin B6, Vitamin B12.

NUTRITION INFORMATION PANEL
+ Instructions
Mix 3g in  250-300ml water
+ Allergen Warning:
May contain traces of Peanuts, Tree Nuts, Soy, Sesame, Fish, Shellfish & Dairy.
+ Serves
90g - 30 Serves 
NUTRITION INFORMATION

Servings per package: 30 Serving size: 3g

Average Quantity per Serving

Average Quantity per 100g
FORMULATED SUPPLEMENTARY SPORTS FOOD
This product is not a sole source of nutrition and should be consumed in conjunction with a healthy nutritious diet and appropriate physical training or exercise program
Checking local availability