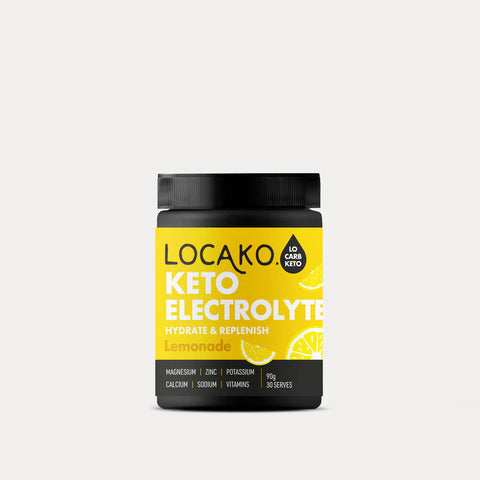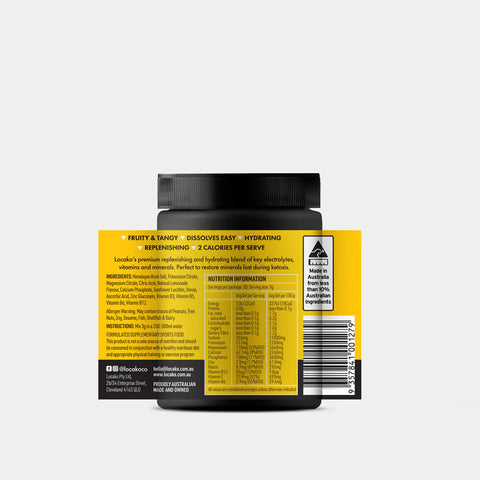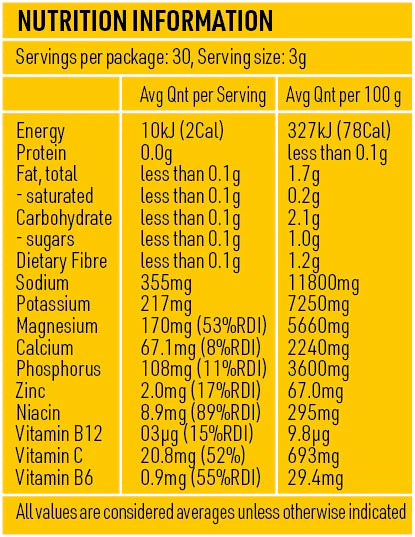 LOCAKO
Locako | Keto Electrolytes - Lemonade
Locako's premium replenishing and hydrating blend of key electrolytes, vitamins, and minerals, is perfect to restore minerals lost during ketosis,

Fruity and Tangy, Dissolves Easy, Hydrating, Replenishing, 2 Calories Per Serve 

90g - 30 Serves 
INGREDIENTS
Magnesium Citrate, Salt (Sodium Chloride), Potassium Citrate, Citric Acid, Natural Lemonade Flavour, Calcium Phosphate, Sunflower Lecithin, Stevia, Ascorbic Acid, Zinc Gluconate, Vitamin B3, Vitamin B5, Vitamin B6, Vitamin B12.
Allergen Warning: May contain traces of Peanuts, Tree Nuts, Soy, Sesame, Fish, Shellfish & Dairy.
Instructions
Mix 3g in 250-300ml water
NUTRITION INFORMATION

Servings per package: 30 Serving size: 3g

Average Quantity per Serving

Average Quantity per 100g
Checking local availability
Perfect electrolyte, tastes amazing
I follow a ketogenic diet and electrolytes are extremely important. This stuff is a quick convenient way to get my elecroltyes in and it tastes legit like fresh lemonade!! I've started drinking this in the morning, at class, in the gym, pretty much whenever. I love it.